In medical malpractice cases, damages are awarded to patients who incur injuries from negligent acts by doctors. However, some states have caps that limit the amount of money awarded for damages to injured patients.
The Croff Case
In 2013, a primary care doctor ordered an MRI of 28-year-old Jason Croff's spine. The MRI  revealed a massive herniated disc in his lumbar spine. The disc had nearly effaced the spinal canal, which severely compressed the cauda equina, a group of nerves locatedat the base of the spine. Mr. Croff then went to Warren G. Roberts, M.D., a neurosurgeon in Tualatin, Oregon, who performed the disk removal surgery, also known as a discectomy.
This type of surgery requires the physician to remove the herniated disk through an incision made along the spine. According to testimony by the neurosurgeon who later re-operated on Mr. Croff, the surgery performed by Dr. Roberts did not result in any decompressive effects on his spinal canal. Post-surgery, Mr. Croff suffered from partial Cauda Equina Syndrome (CES), which led to permanent neurological damage below his waist.
Permanent Effects of CES
Cauda Equina Syndrome is a serious condition in which the nerve roots at the top of the lumbar spine are compressed and interrupt the normal function of pelvic organs and lower limbs. In serious cases, CES can even result in permanent paralysis of the legs.
The lasting symptoms of CES affect people both physically and emotionally, particularly if the symptoms are chronic. CES can greatly restrict a person's ability to live a normal life, as they may no longer be able to work or engage socially due to severe pain, socially unacceptable incontinence, and/or motor or sensory loss.
In the case of the Croffs, the impact of the failed surgery was catastrophic, as Mr. Croff was left with numbness in his legs and genitals and critical damage to his urinary system.
The Court Case
On June 30, 2015, Jason Croff and his wife, Kassandra, filed a medical malpractice claim against Dr. Roberts in the Circuit Court of the State of Oregon. The Croffs claimed that Dr. Roberts mishandled the surgery partly by failing to decompress the cauda equina. 
The Croffs also alleged that Dr. Roberts acted negligently when he failed to:
remove a protruding disc at L4/L5

remove a large protruding disc at L5/S1

decompress the spine at L4/5 and L5/S1

recognize and diagnose a fracture on the inferior aspect of the spinous process of L4

diagnose a post-operative wound infection in a timely manner

debride, drain, and treat the post-operative infection
Mr. Croff, who was 29 at the time of the surgery, claimed economic damages for medical treatment and lost earning capacity of $400,000. Mr. Croff also claimed non-economic damages of $3.5 million. Mrs. Croff alleged claims for loss of consortium and sought non-economic damages of $ 1 million. 
On Oct. 5, 2015, the defendant, Dr. Roberts, filed an answer denying the allegations and asserting affirmative defenses, including statutory limits to non-economic damages, comparative negligence, and reservation of rights. By this point, Dr. Roberts already had hundreds of thousands of dollars in unsatisfied judgments filed against him and no longer had surgical privileges at any hospital.
The Verdict
On August 2, 2017, over a year after the case was filed in court and an eight-day jury trial, the jury unanimously awarded the Croffs more than $4.5 million in damages. The case was then settled with Dr. Roberts' insurance company to avoid a lengthy appeal.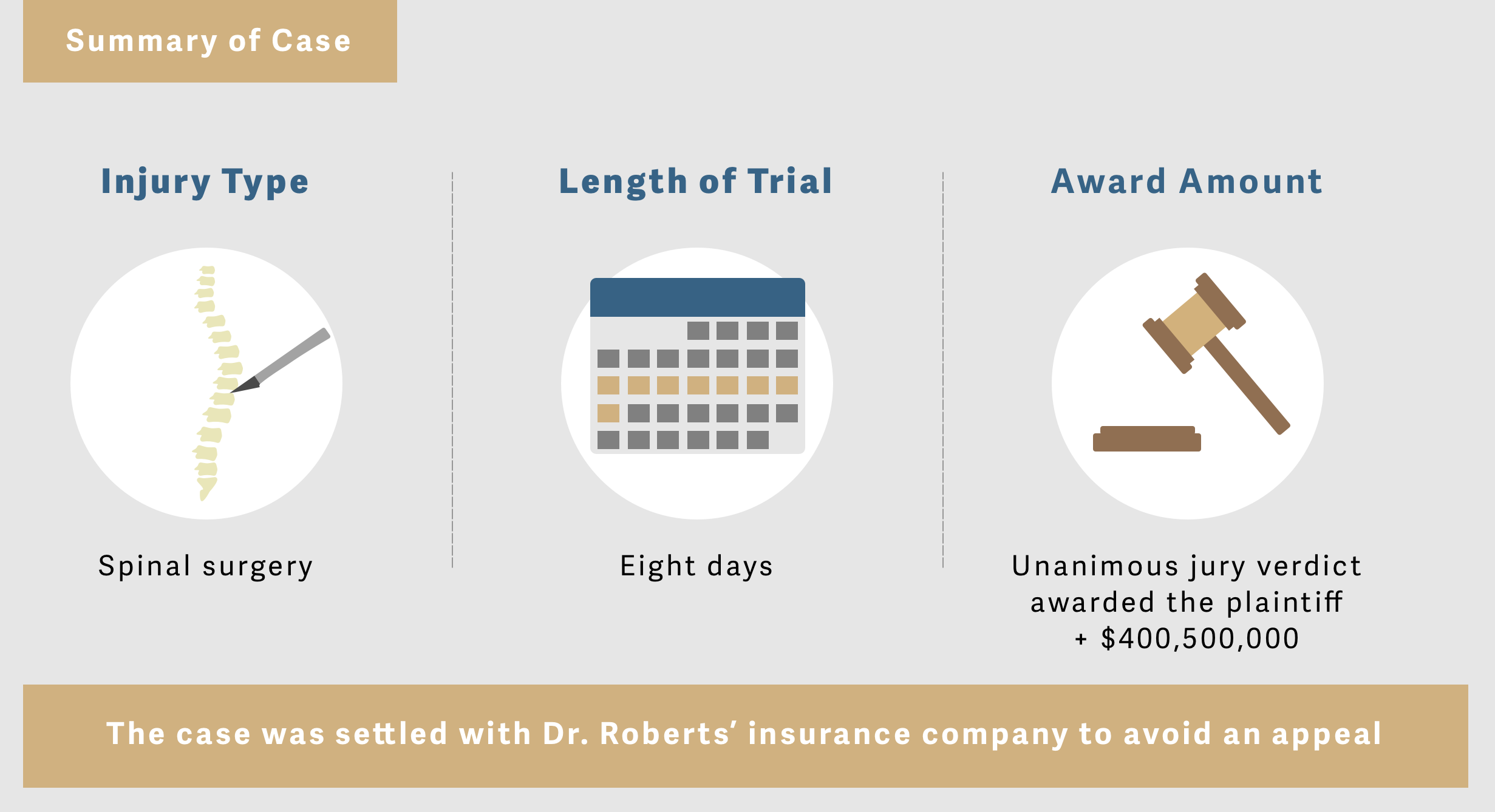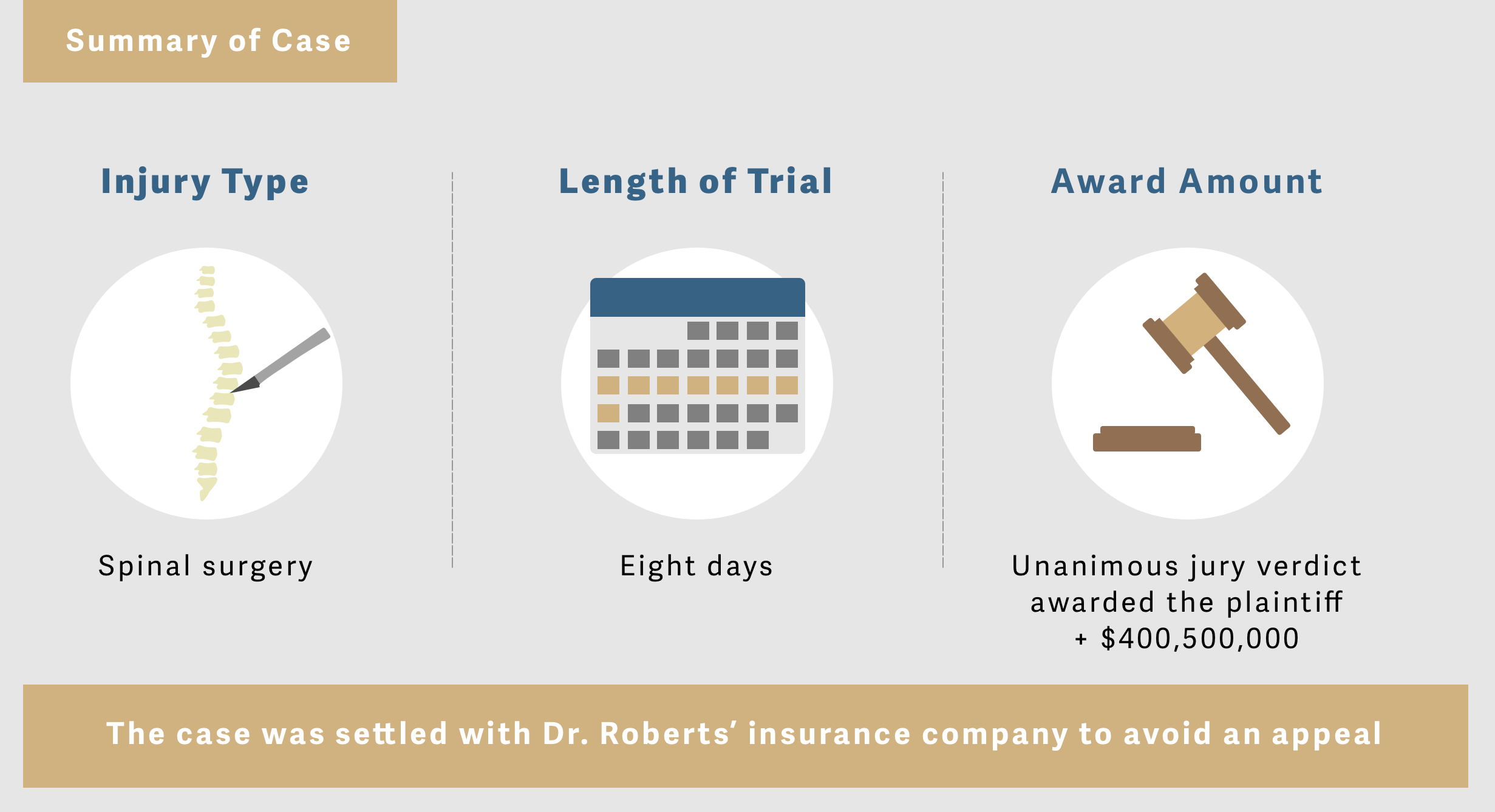 A History of Medical Malpractice & Litigation
A pretrial deposition indicates that Dr. Roberts ceased to perform neurological surgeries after his privileges were revoked at the Legacy Health and Legacy Meridian Park Medical Center in Tualatin.
According to the Oregon Medical Board, Dr. Roberts has been practicing medicine since 2001. He was issued a Complaint & Notice of Proposed Disciplinary action in 2014 and 2015 based on possible violation of the Medical Practice Act for "unprofessional or dishonorable conduct and gross or repeated acts of negligence."
In 2014, Dr. Roberts was a plaintiff in the Roberts v. Legacy Meridian Park Hospital, Inc. case in which he filed a lawsuit against the hospital stating that racial discrimination and competition from other doctors caused his privileges to be revoked. He sought $30 million in non-economic damages.
Jurors in the Croff trial were not permitted by the judge to hear any evidence of Dr. Roberts' previous malpractice cases or previous disciplinary actions by hospitals or medical boards.  Such evidence is usually considered legally 'irrelevant' and thus rarely heard by juries deciding medical malpractice cases.


We invite you to learn more about medical malpractice in Oregon, caps on damages, and how the lawyers at Miller & Wagner can help you. When jurors award money to a patient injured by medical malpractice in Oregon, patients may not receive all of the compensation awarded by the jury. View our article and checklist on Oregon Caps on Damages to learn more.